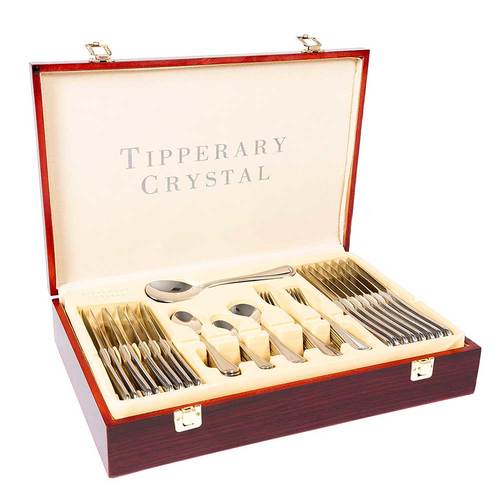 Tipperary Elegance 58 Piece Cutlery Canteen
€119.95
Regular price
€299.00
---
---
Elegance 58 Piece Cutlery Canteen from Tipperary Crystal consists of: Table Knife X 8 Table Fork X 8 Desert Knife X 8 Desert Fork X 8 Desert Spoon X 8 Soup Spoon X 8 Tea Spoon X 8 Serving Spoon X 2 All presented in a wonderful wooden handled case making a wonderful gift for many occasions including Weddings, Engragements, New Home gifts, etc.
---
Irish Owned Family Business since 1951
30 Days Returns (Terms & Conditions Apply)
Tipperary Elegance 58 Piece Cutlery Canteen
€119.95
Regular price
€299.00
Gifts for all occasions in Tierney's
The Tipperary Crystal Elegance 24 Piece Cutlery Canteen makes a lovely gift for any occasion. Also, their online service is excellent. Overall, I am delighted with it!
The gift I bought for my nephew Simon is beautiful. I opted at that time to join your Newsletter & E Mail I rec'd from [****] on 1/8/23 at 11.56 a.m. confirmed that I had chosen to opt in. The code I was given to get 10% off my 1st purchase of €199 however was not accepted. I spoke with Michael who was very helpful & arranged for €10 to be refunded to my account the following week. I appreciated his gesture. I would appreciate if you would explain why this error / glitch arose regarding the code as €20 should have been deducted from this purchase of a wedding gift. Thanking you, Yours sincerely, Bríd Gallagher.
Hi Simon & Niamh
Thanks for the⭐⭐⭐⭐⭐ star review and your shopping experience with Tierneys Gifts! We really appreciate the feedback!
We checked our records and you're correct it should indeed have been €20. We will reply to you privately and get that rectified early next week.
Have a nice weekend in between
Tierneys Gifts
https://tierneysgifts.com/
Wonderful Company
We love our cutlery service and enjoy buying from this vendor
Thanks for the wonderful ⭐⭐⭐⭐⭐review Michael! We're delighted that you're happy with your purchase from Tierneys Gifts Online Store.
Regards,
Michael
Michael Tierney
Managing Director
Tierneys Gifts
https://tierneysgifts.com/