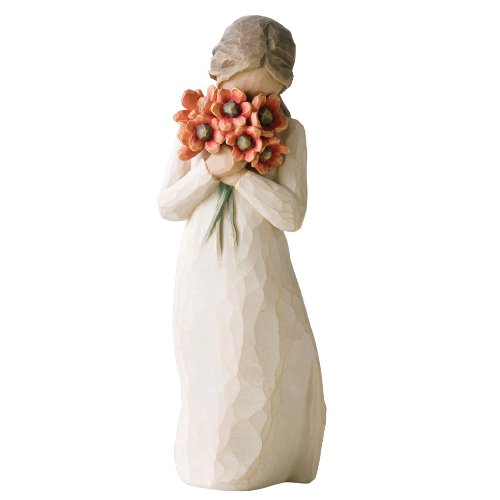 Willow Tree Surrounded By Love
---
---
Susan Lordi said that with this beautiful piece "I wanted to make a figure with her face in the flowers, taking them in with her senses — smelling them, feeling the petals against her face; feeling safe in that surround. So this piece could say to someone that they are loved by those around them… if a person is experiencing difficulty, it could be a reminder of family and friends who support and are there for them. Or it could be a way to say to one special person that all of your love is surrounding them (more of a romantic interpretation)… or just a little gift for someone who loves to garden… I like that people read this piece differently. The choice of red poppies was influenced by trips to France, seeing fields of poppies. The red poppy symbolises remembrance, so this piece could be a tribute to those who served our country."
This beautiful Willow Tree piece comes with the sentiment "Abundant love surrounds you"
Dimensions: Height 13cm
---
Irish Owned Family Business since 1951
30 Days Returns (Terms & Conditions Apply)
Willow Tree Surrounded By Love
willow tree Angel of Healing
Loved the Willow Tree Angel Of Healing. Appreciated the excellent speedy delivery. Mary Cogan
Willow Tree Sisters By Heart
Thanks for the lovely ⭐⭐⭐⭐⭐ star review Sharon, appreciated!
Thanks,
Michael
Michael Tierney
Managing Director
Tierneys Gifts
https://tierneysgifts.com/