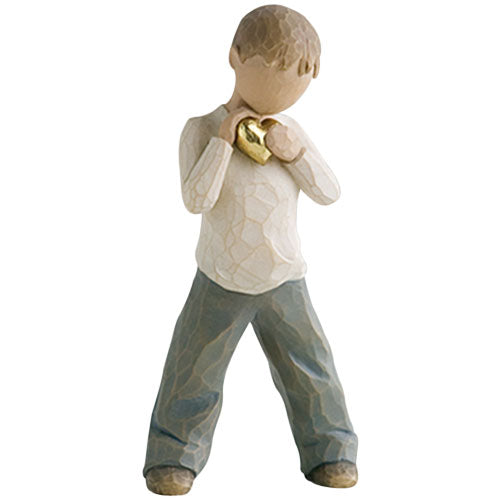 Willow Tree Heart Of Gold
---
---
Susan Lordi said that this beautiful piece Heart of Gold was inspired by a young cancer patient, Scott Kristopher Innes, at Children's Mercy Hospital in Kansas City."Scott's boundless and positive energy reflected on those around him, and as a result, good things continue to radiate from his spirit. His courageous spirit and kind smile showed me how one little heart of gold can continue to bring so much love, joy and comfort to others. It is my hope that this figure expresses the pure and honest affection between a child and those who love and care for him."
This beautiful Willow Tree piece comes with the sentiment "You will always have my heart"
Dimensions: Height 14cm
Also makes an ideal Communion gift:
Our First Holy Communion & Confirmation gifts and jewellery are unique and move away from the traditional gifts given such as rosary beads and prayer books. Choose a modern Communion gift that marks this significant event in this special young person's life. Our First Holy Communion gifts for boys and girls will be a treasured memento. Some Communion gifts can be personalised with a name and date.
---
Irish Owned Family Business since 1951
30 Days Returns (Terms & Conditions Apply)
Willow Tree Heart Of Gold
willow tree Angel of Healing
Loved the Willow Tree Angel Of Healing. Appreciated the excellent speedy delivery. Mary Cogan
Willow Tree Sisters By Heart
Thanks for the lovely ⭐⭐⭐⭐⭐ star review Sharon, appreciated!
Thanks,
Michael
Michael Tierney
Managing Director
Tierneys Gifts
https://tierneysgifts.com/