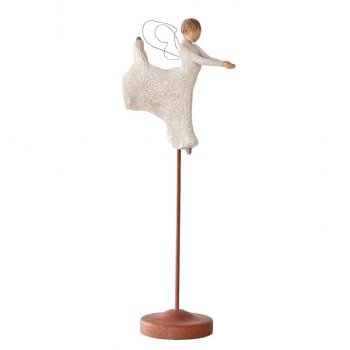 Willow Tree Dance Of Life
---
---
Susan Lordi said that with this beautiful piece "The carvings on Dance of Life are suggestive of fruitfulness and fecundity... pomegranates and birds, intertwined with vines and berries, refer to the richness and renewal of life. On Song of Joy, the carvings are more celestial... sun, moon, stars... alluding to rhythmic cycles and seasons. I hope that these pieces can be enjoyed singly or together, with the Nativity or on their own".
This beautiful Willow Tree piece comes with the sentiment "Dancing... Twirling! The magical miracle of life".
Dimensions: Height 15.5"
---
Irish Owned Family Business since 1951
30 Days Returns (Terms & Conditions Apply)
Willow Tree Dance Of Life
willow tree Angel of Healing
Loved the Willow Tree Angel Of Healing. Appreciated the excellent speedy delivery. Mary Cogan
Willow Tree Sisters By Heart
Thanks for the lovely ⭐⭐⭐⭐⭐ star review Sharon, appreciated!
Thanks,
Michael
Michael Tierney
Managing Director
Tierneys Gifts
https://tierneysgifts.com/