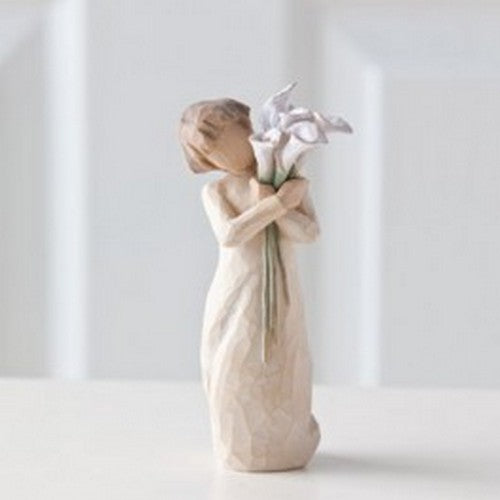 Willow Tree Beautiful Wishes
---
---
Susan Lordi said that with this beautiful piece "Calla lilies are a symbol of majestic beauty. I chose this flower to represent a pure and simple wish for beauty and peace in our lives…a universal sentiment for so many occasions…birth, marriage, anniversaries, in sympathy and in remembrance. Beautiful wishes are what we send to those we care for and about".
This beautiful Willow Tree piece comes with the sentiment "A gathering of beautiful wishes for you - love, health, happiness".
Dimensions: Height 5.5"
---
Irish Owned Family Business since 1951
30 Days Returns (Terms & Conditions Apply)
Willow Tree Beautiful Wishes
willow tree Angel of Healing
Loved the Willow Tree Angel Of Healing. Appreciated the excellent speedy delivery. Mary Cogan
Willow Tree Sisters By Heart
Thanks for the lovely ⭐⭐⭐⭐⭐ star review Sharon, appreciated!
Thanks,
Michael
Michael Tierney
Managing Director
Tierneys Gifts
https://tierneysgifts.com/