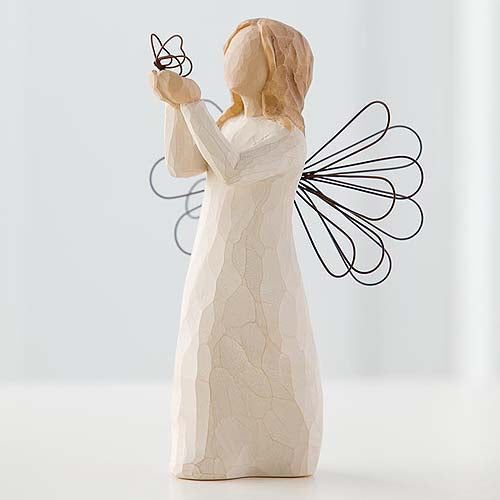 Willow Tree Angel Of Freedom
---
---
Susan Lordi said that with this beautiful piece "Angel of Freedom holds a wire butterfly in her outstretched hands as a metaphor of freedom and independence, courage and confidence. This piece has a very open interpretation, and can fit a lot of different occasions. For graduates, for new careers, for a personality with a free spirit, for someone who loves nature and butterflies, in recognition of service to our country… in memory of a loved one."
This beautiful Willow Tree piece comes with the sentiment "Allowing dreams to soar"
Dimensions: Height 12.5cm
---
Irish Owned Family Business since 1951
30 Days Returns (Terms & Conditions Apply)
Willow Tree Angel Of Freedom
willow tree Angel of Healing
Loved the Willow Tree Angel Of Healing. Appreciated the excellent speedy delivery. Mary Cogan
Willow Tree Sisters By Heart
Thanks for the lovely ⭐⭐⭐⭐⭐ star review Sharon, appreciated!
Thanks,
Michael
Michael Tierney
Managing Director
Tierneys Gifts
https://tierneysgifts.com/